Programme
Our 132nd Session Programme for 2021 to 2022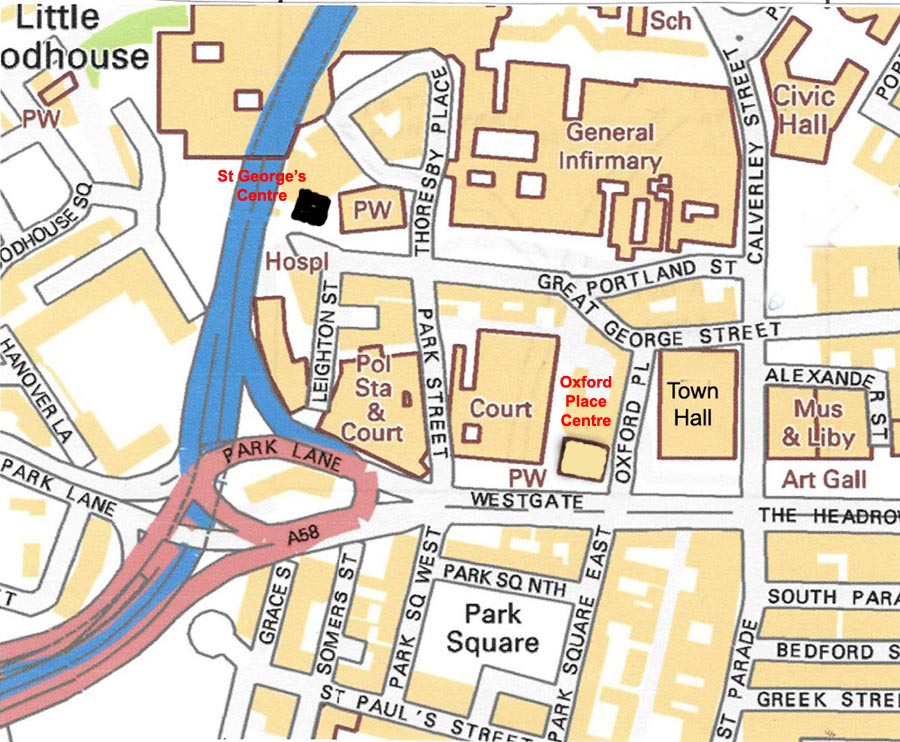 Our meetings are held at

St George's Centre,
Great George Street,
Leeds
LS1 3BR

There is street parking in the area on Great George Street, Thoresby Place and other streets around the Leeds General Infirmary. After 6pm the parking charge is £3 all evening.

Doors open at 6.30pm for discussion and exchange. The main business of meetings will start at 7pm.
2021 Meetings & Events
| | |
| --- | --- |
| IMPORTANT | WE HAVE RESUMED NORMAL MEETINGS FOR THIS SESSION, BUT CHECK HERE FOR ANY CHANGES THAT MAY BE REQUIRED DUE TO THE CORONAVIRUS PANDEMIC |
| 14 September | 2020/21 Annual General Meeting and Welcome Back! |
| 28 September | 8 Sheets - Lockdown Projects: Members' Evening |
| 12 October | Leeds Ephemera: Michael Meadowcroft |
| 26 October | Brazil: Janet and Nick Nelson |
| 16 November | Brussels Expo 1958: Mark Bailey |
| 20 & 21 November | (Saturday & Sunday) Leeds Philatelic Society's Annual Stamp Fair, Pudsey Civic Hall, Dawson's Corner, Pudsey, LS28 5TA. |
| 23 November | 1945: Peter Howitt |
| 14 December | President's Evening: Paul Kellett |
| 28 December | Meeting on Zoom ONLY: Visit from the Caledonian Philatelic Society |
2022 Meetings & Events
11 January
World Postal Stationery Cards 1869 to 1900: David Druett
25 January
YPA Presidential Display: Keith Burton
8 February
Turks and Caicos Islands: Tony Walker
(Last date for Competition Entries)
22 February
Competition Evening
8 March
1879/80 Tenders for Great Britain Surface-Printed Stamps: Dr. Simon Kelly
22 March
Auction Evening
12 April
Cameroon Miscellany: Brian Lythgoe
26 April
Roger Oakley Entertains
5 May
Visit to Burnley Philatelic Society
10 May
Bill Barrell Road Show
24 May
Members' Evening and Annual General Meeting
133rd Session: 2022 to 2023
| | |
| --- | --- |
| 13 September | Opening Meeting of 133rd Session |